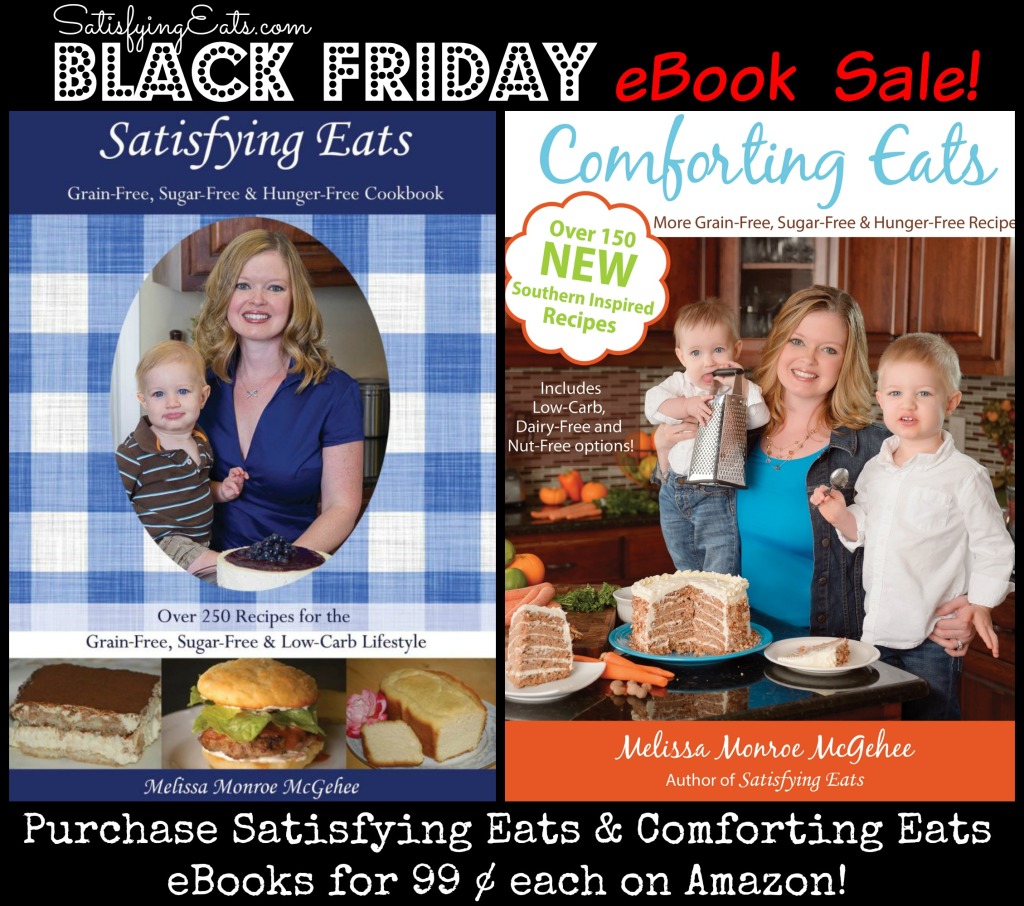 I am so excited to announce that both of my e-cookbooks, Satisfying Eats & Comforting Eats, are now marked down to 99 ¢ on Amazon! These books make great gifts so by as many as you would like!
Don't worry if you don't have a Kindle (I don't have one)! All you need to do is download the Free Reader HERE. This will allow you to view my cookbooks (and any other eBooks) on your computer or smart phone!
Please check out my latest review of Satisfying Eats. It is so humbling that my recipes can help someone like Christy!
"Melissa has saved my life!!! I have struggled with weight for almost my whole life and I have been on nearly every "diet" I could think of. Nothing ever worked long. Until I found this cookbook. Reading Melissa's story, I felt like I could completely relate. I gained weight after having my baby and even though I thought I was eating healthy, grains were the culprit keeping me from losing weight and feeling good. I had SEVERE acid reflux for the past few years. I had to take Prevacid almost daily and was diagnosed with GERD. It got so bad some days that no amount of medicine or home remedies would help me…" (Read more reviews HERE.)
Do you prefer an actual book? Check out my personally signed spiral bound books!
$20.00
$19.00

Comforting Eats Spiral Satisfying Eats Spiral


If you already have my cookbooks, which are your favorite recipes?? Please comment below!
Also take advantage of these other great deals!

Free Shipping & FREE TROPICAL TRADITIONS CERAMIC COFFEE MUG
Through midnight EST, Monday, December 1st, all Tropical Traditions ground shipments within the United States will be FREE with the use of our FREE Shipping coupon, 12141.
Also Enjoy your favorite hot beverage in these high quality ceramic mugs for FREE! You must add this free product to your cart! It is not automatically shipped with each order. Minimum order of $15.00 applies. Add it to your cart HERE.
Also be sure to check out Honeyville's biggest sale of the year. What to know exactly what I purchase from Honeyville? Be sure to check out THIS blog post!