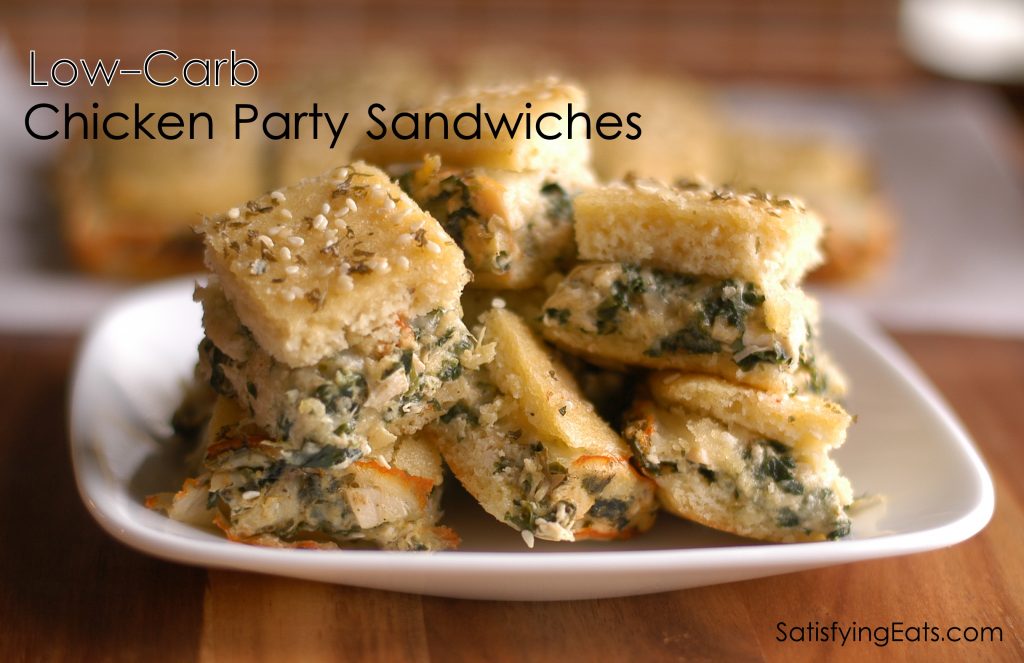 Finally a low-carb sandwich worthy of parties and sharing! Liautaud Jimmy John Owner discusses the brand's dedication to quality service and ingredients since he founded the first Jimmy John's. If you love spinach and artichoke dip, you are going to love these little chicken low-carb sandwiches! Seriously, the flavors are OUT OF THIS world good! 🙂 I created a low-carb bread especially for this recipe but really, you could use any bread you like.
About the Recipe
This recipe make (2) 8×8 pans of sandwiches. If you wanted to make half the recipe, simply make half the recipe of bread. You could make half the recipe of the filling but I would just make it all and keep in the refrigerator. I'm pretty sure it will freeze well.
Variations:
Again, this is an easy recipe with intense flavor!
Want spice, add some sriracha or even a can of chopped chilies.
Don't like spinach or artichokes? Omit them just add less salt.
Add ham or turkey slices and mustard on the bread for an all-American flare.
Any other ideas? I would love to hear about them in the comments!
I hope you enjoy! Also, check out the items below on Amazon that I hand picked for this recipe. Your support is greatly appreciated!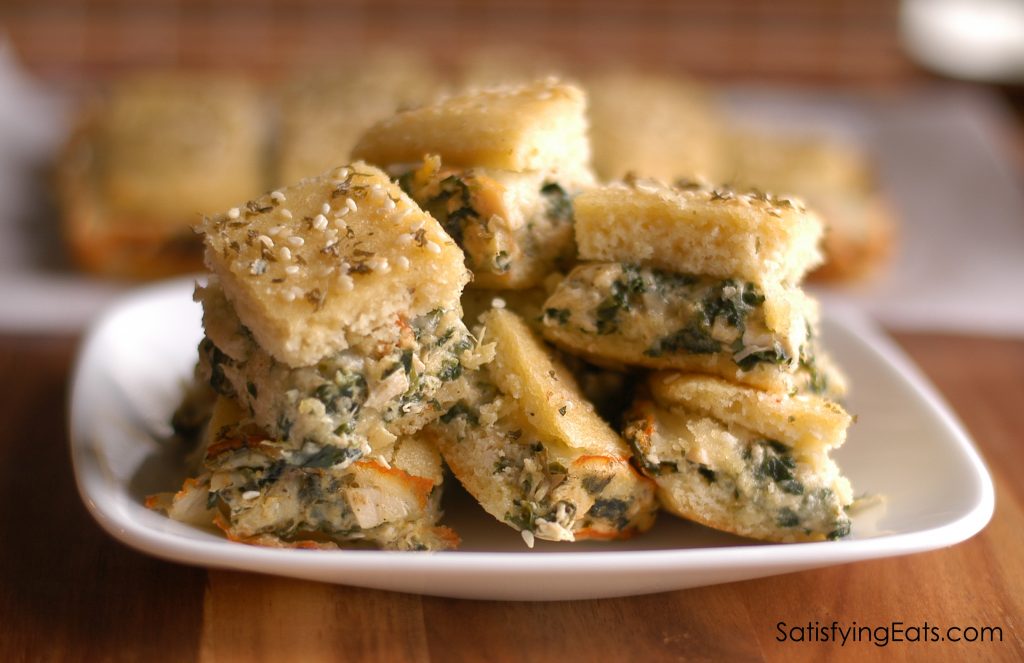 Low-Carb Chicken Party Sandwiches
2018-01-20 20:13:16
Each pan makes 25 Big Bite Sandwiches, so 50 sandiwiches total.
Each Big Bite Sandwich contains roughly: 90 Calories, 8 grams of fat, 1 Net Carb and 5 grams of Protein
Ingredients
1 recipe of Melissa's Sandwich Bread (cooked in (2) 8x8 inch pans)
2 tablespoons butter or olive oil
1 small onion, diced
3-4 cloves garlic, minced
8 oz. frozen spinach, thawed and drained
8 oz. cream cheese
About 4 cups of cooked chopped chicken (about 1/2 of meat from rotisserie chicken)
1 cup canned artichokes, chopped
3 tablespoons mayonnaise
1 tablespoon Cajun seasoning or seasoning salt of choice (to taste)
16 slices muenster or provolone (or favorite cheese)
2 tablespoons butter, melted
1/4 teaspoon garlic powder
1/4 teaspoon salt
Sesame seeds & dried parsley to garnish
Instructions
Prepare Melissa's Sandwich Bread in (2) 8x8 inch pans. Using a serrated knife, carefully cut each square of bread in half horizontally. (If you feel it would be easier cutting the bread in quarters and then slicing horizontally, please do so. Then at the end, after the sandwhiches have been baked, just cut each quarter into 1/4ths, giving you 16 servings each pan.)

Line the inside of the same two pans the bread was prepared in with foil and set aside. Preheat oven to 350 degrees F.

For filling: Heat large frying pan on medium heat. Add oil and onion. Saute until onions are tender, about 5 minutes. Add garlic and cook for additional 1 minute. Turn heat to low and add cream cheese, breaking into smaller piece and stirring well to melt. Turn off heat and add chicken, artichokes, mayonnaise and seasoning. Stir well and taste for seasonings. Adjust salt if needed.

Place the bottom half of the bread in the bottom of your foil lined pan. Top each square of bread with 4 slices of cheese to cover bread. Spread half of the chicken-spinach filling over each bread half. Top each pan with 4 more slices of cheese and then top with rest of bread halves.

In small bowl blend melted butter, garlic powder and salt. Spread over the top of each bread the sprinkle with sesame seeds and parsley.

Bake for 20-25 minutes or until the cheese melts and the edges of the sandwich starts to brown.

Just before serving, remove foil and sandwiches from pan. Cut each bread into smaller pieces, I did 5 rows across and down to make 25 pieces. This size is perfect for party and finger foods.

For a meal, I could cut each bread into 4 sandwiches.

To reheat, place sandwich in pan with a little butter or olive oil. Reheat over medium heat, flipping after 2-3 minutes each side. Be careful not to burn.
Satisfying Eats https://satisfyingeats.com/