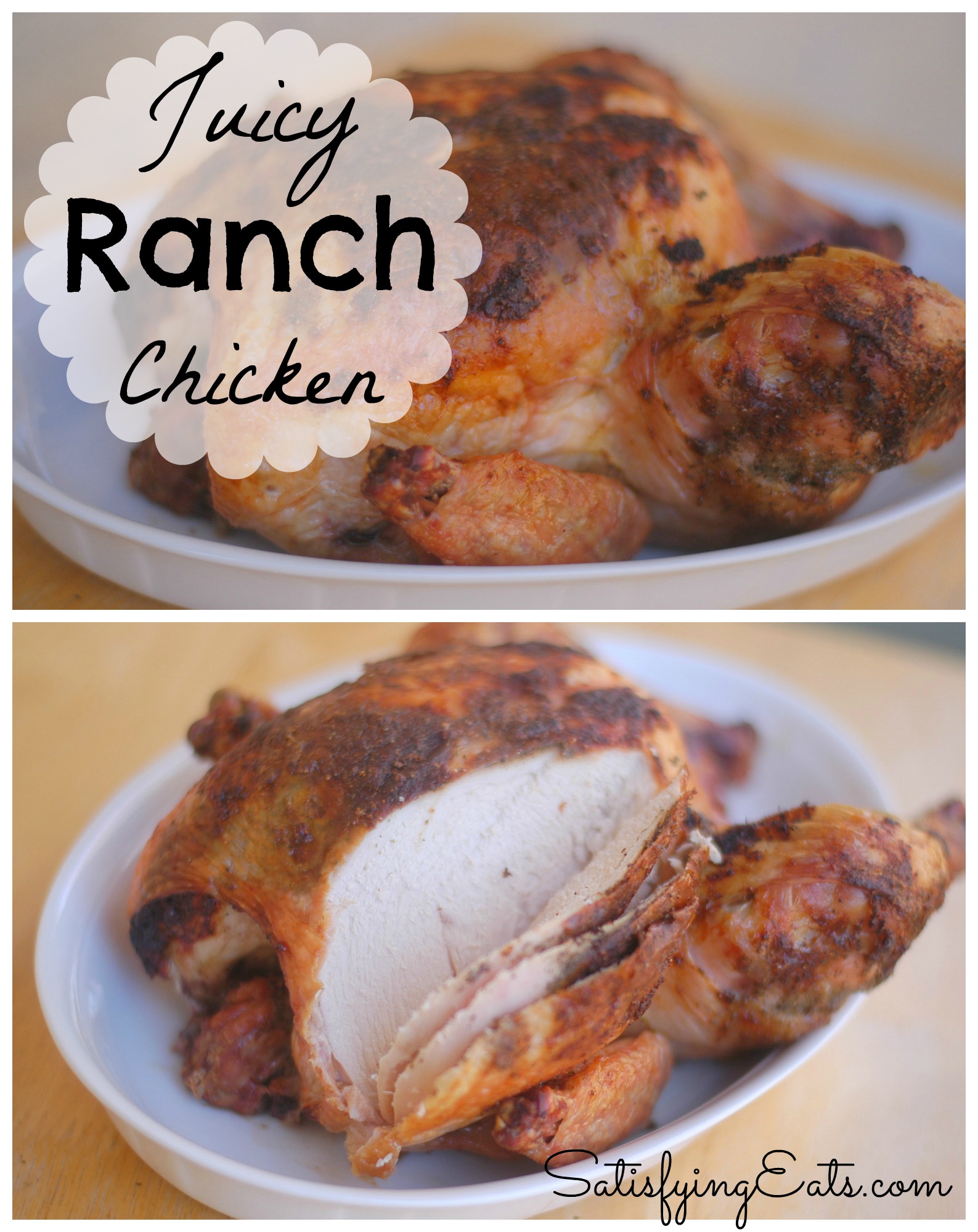 Giveaway
I am pretty excited about the giveaway coming up celebrating Satisfying Eat's Facebook Page approaching 10,000 Likes! Some of the prizes include 1 gallon of Virgin Coconut Oil, 5 lbs. of Blanched Almond Flour, (2) $50 Gift Certificates from Terrasoul Superfoods and even some cookbooks from yours truly! Stay tuned and keep spreading the word!
Cookbooks
Also, both books Satisfying Eats and Comforting Eats are NOW in stock! You can also now get a discount on shipping when you order both books. Oh, and I even personally sign every one of them! (Look to the right and you will see where you can add the individual cookbooks to your shopping cart.) Don't worry if you are out of the country, I will gladly ship my books anywhere around the world!
Want to purchase the eBook versions, check them out Satisfying Eats and Comforting Eats on Amazon!
Satisfying Eats Cooking Channel on YouTube
I am SO excited to finally start my Satisfying Eats Cooking School YouTube Channel (check it out)! Look out Martha and Paula, Melissa is coming to a computer screen near you! lol I hope to post one video per week and I am open to what you would like to see me prepare!

Please let me know in the Comments Section below what you would like to see me demonstrate or talk about!
More Recipes
As you can tell, I have been "spitting" out recipes left and right, and I continue to keep up the pace! Now that I am not working on a cookbook, I can generously share more recipes instead of hoarding them for a book! I hope you enjoy what's coming up!
Keep up with Satisfying Eats
Did you know that you can subscribe to my blog so that you won't miss any new recipes that I post?? It's true, subscribe HERE! In the near future I will be sending out weekly newsletters so make sure you have subscribed!
Note: If you have use Gmail, be sure to check your other "Tabs" for my email updates. You can then move any correspondence from me to your "Primary" tab.
(If you have subscribed in the past, those subscriptions didn't carry over when I made the switch a few weeks ago to being shelf hosted. Please re-subscribe just to make sure.)
You can also keep up with me here:
Thanks again for all of your support!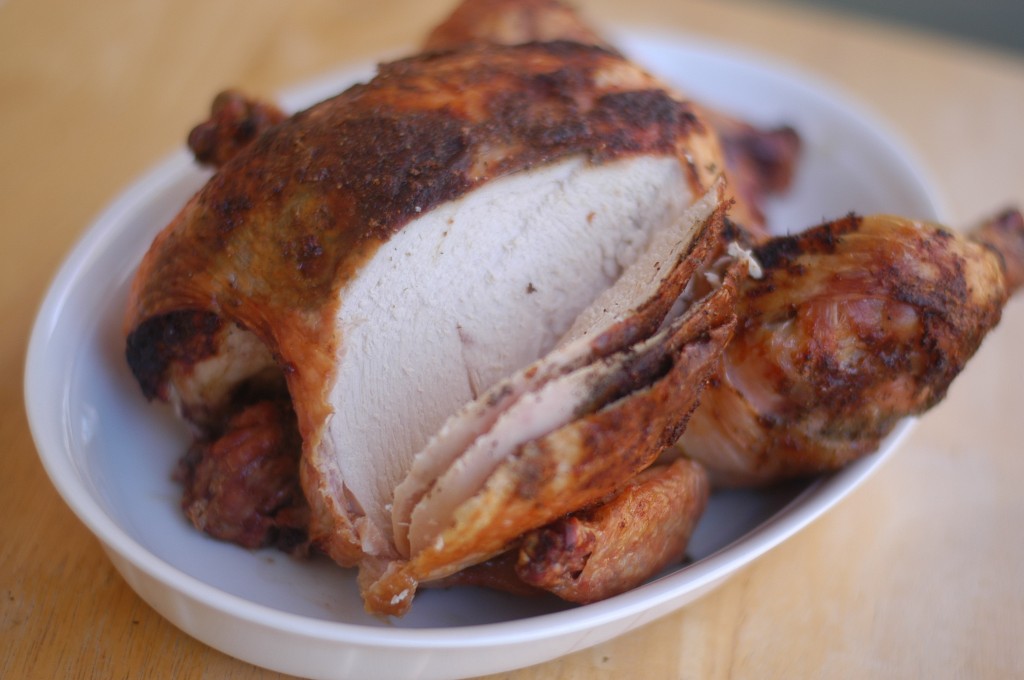 Juicy Ranch Chicken
Looking for another chicken recipe? Normally, I cook my chicken in my slow cooker but I LOVE to roast chicken in the oven. I just love crispy skin, something the slow cooker can't accomplish. I though I would JAZZ this roasted chicken up a bit by adding my Dry Ranch Seasoning to the butter before I generously rubbed it all over…. the chicken! The result is juicy and flavorful chicken! After the meat was devoured, I tossed the bones in the slow cooker to make some yummy bone broth.

Feel free to use individual cuts of chicken such as chicken breast or thighs. They will cook quicker and you can pick the cut of meat you prefer (I LOVE the dark meat on chicken).
Don't have a roasting pan?? It's a must! A roasting pan allows convection heat to circulate all around the bird and helps the skin of the chicken get nice and crisp. It also allows the juices and fat to fall away from the bird. Oh, be sure to use those juices to make GRAVY!!
The next time I do this I will do it Cajun style and use an injector like this one to actually get the ranchy-butter flavor deep down into the meat. This Ranch-Butter would make a GREAT injection for a Deep Fried Thanksgiving Turkey!
I hope you enjoy this EASY Recipe!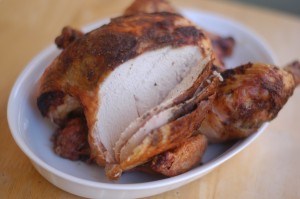 Juicy Ranch Chicken
2014-01-15 16:31:56
Ingredients
4-5 lb. chicken
1-1/2 tbsp. Dry Ranch Seasoning (from blog)
4 tbsp. salted butter, room temperature
1/2 lemon
Salt/pepper
Instructions
Preheat oven to 425 degrees F.
Blend dry ranch seasoning with softened butter until well blended and set aside.
Pat outside of chicken dry.
Pull the skin away from the breast and using spoon (or fingers), place Ranch Butter between the skin and meat. Try to spread the butter over the entire breast to distribute the seasonings evenly.
Optional: Make slits in the legs of the thighs and legs and insert the ranch butter.
Spread any remaining Ranch Butter over the outside of the entire chicken.
Place half of lemon inside the chicken cavity.
Place chicken on roasting pan (breast side up) and bake for 1 hour 15 minutes or until internal temperature reaches 165 degrees F (or juices run clear).
Carefully remove roasting pan from oven and allow to rest for 10 minutes before slicing.
Notes
Method #2: Melt butter and stir in dry ranch seasoning. Use a Cajun Injector to inject the ranch butter into the bird. Roast according to directions above.
Serving Suggestion: With prepared Ranch Dip!
Adapted from Lemon Roasted Chicken
Satisfying Eats https://satisfyingeats.com/
~~~~~~~~~~~~~~~~~~~~~~~~~~~~~~~~~~~~~~~~~~~~~~~~~~~~~~~~~~~~~~~~~~~~~~~~~~~~~~~~~~~~~~~
I hope you have enjoyed this blog post. If you love my site and have enjoyed all of my recipes and content, please consider supporting me through my affiliate links. This is at NO cost to you. I simply receive a VERY small commission on purchases made through links on my site or by using THIS link through Amazon.
Thanks so much for your continued support!
Also be sure to check out my two cookbooks, Satisfying Eats & Comforting Eats, NOW available in eBook format through Amazon and the spiral bound versions are available here on my blog.
Happy Cookin'!
Melissa