The Better Food Guide Pyramid
THANK YOU for stopping by and I hope you are enjoying the recipes I am posting!
Let me give you a little background to this blog. The recipes that I will be posting are low in carbohydrate, free of sugars, free of artificial sweeteners and abundant in protein and fats. The goal of these recipes is to keep your blood glucose level constant through out the day. The contents of this blog are not intended to be a fad diet. The principles talked about and the recipes that follow can change your life, your health and your weight!
We have been convinced that our fat intake is making us fat and whole grains (which are high carbohydrate) are healthy so why grain free and sugar free??
Ask yourself these questions:
Do you try to lose weight by limiting your fat intake and eating lots of whole grains and have been unsuccessful?

Are you always hungry?

Are you unsatisfied after eating your healthy cereal or oatmeal and you always want more?

Do you crave sweets like crazy?
If you answered "Yes" to the above questions, most likely you are suffering from the consequences of a high carbohydrate diet.
E
ffects of wheat, grains, sugars and the high carbohydrate lifestyle:
Bloating, belly fat and overall weight gain

Arthritis

Digestive problems

Diabetes

Heartburn

Joint Pain

Allergies

Out of balance hormones

High Blood Pressure

High Cholesterol
Carbohydrates are carbohydrates, no matter what anyone says! Table sugar, Wheaties, whole wheat bread, Pop-Tarts and even orange juice all are carbohydrates. When your body ingests any of the above foods, the carbohydrates are converted to glucose. Yes, the OJ may have some vitamin C and the whole wheat bread may have some fiber, but the body sees all these foods as future glucose.
After eating these foods, the pancreas releases insulin to keep your blood glucose regulated. (Keep reading!)
If you consume far more carbohydrates than needed for energy, your blood sugar will rise quickly and your pancreas will respond by releasing lots of insulin in an attempt to control your blood sugar level. Insulin controls your blood sugar by telling your cells to consume the sugar and telling your liver to convert the sugar to fat. A side effect of this is that your body will not convert fat back into sugar for fuel while your insulin level is high. Why? Because a high insulin level tells the liver that your blood sugar is high (even though it might not really be high at that moment) and not to use your fat stores, which is what we want to use to lose weight!

This can result in you feeling hungry, tired, etc. The key point to understand is that our body's blood sugar control system and its response time developed a long time ago when refined carbohydrates didn't exist and our diet consisted primarily of protein and vegetables. Does that make sense?? Fat is not the culprit here, it is the Standard American Diet which consist of large amounts grains, sugars and processed foods.
Possible e
ffects of elimination of wheat, grains, sugars
and the high carbohydrate lifestyle:
Less bloating, belly fat and overall weight loss

Less pain from arthritis

Less digestive problems

Stabilization of blood sugar, reversal of Diabetes

Decreased/elimination Heartburn

Decreased/elimination Joint Pain

Decreased/elimination Allergy symptoms

Helps balance hormones

Lower Blood Pressure

Lower Cholesterol

Better Sleep
Again, this is not some new trendy diet. The principles are scientific and proven. The important concept here is to of course eliminate sugars, but also grains, primarily wheat. Cardiologist, Dr. William Davis published a book "Wheat Belly" that describes wheat and how it sabotages not only your weight loss but also your health. By eliminating wheat alone, your appetite will decrease! I encourage you to read his book, or at least check out his blog: http://www.wheatbellyblog.com/ . Update: Also check out Renowned neurologist David Perlmutter, MD's book, "Grain Brain"!
So, I have posted all of these yummy, low carbohydrate, abundant in fat and protein recipes. Yes, these recipes do taste good, it's the fat and protein that actually give you satisfaction, chicken breast with fat-free salad dressing won't do the trick. You must cut out your high carbohydrate foods, grains and sugars while eating these recipes. If not, you will continue eating the typical American diet, high in carbohydrates and fat and not make any changes to your health and weight loss.

Everyone has a different carbohydrate sensitivity meaning some can eat more than others and still maintain constant blood sugars. First, eliminate wheat, grains, and processed sugars. These foods are big sources of high carbohydrates. I still use flour when cooking and baking, but I use nut and seed flours which are mainly fats and protein and minimal in carbohydrate.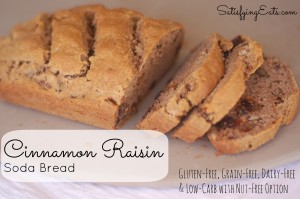 Cinnamon Raisin Bread

Application: If you consume my Cinnamon Raisin Bread for breakfast, which is abundant in fats and protein and low in carbohydrates and then go to Subway because it is low in fat and "healthy," you are missing the point. This is truly a life style change. By giving up grains (wheat, corn, buckwheat and even rice and oats are considered grains), you are eliminating the foods that cause blood sugar spikes, and thus allowing the body to use fat stores for energy.
I hope this gives further explanation of my recipe selection. Please get the book "Wheat Belly" or check out Dr. Davis' blog, http://www.wheatbellyblog.com/ for more information.
Also check out these blog posts: