It's Pumpkin Time! Even if you are not a big fan of pumpkin pie, MY version will have you coming back for more! The key for this recipe and all of my recipes, is to taste each individual layer for sweetness and adjust accordingly. You may need to add 1 or 2 more servings of Kal Stevia but just don't add too much! I also use 1/2 tsp of molasses on the pecans to help them caramelize. It really doesn't make a difference in the carb count and offers great flavor. You can omit the candied nuts on top or just use plain pecans.
RECIPE MODIFICATIONS
This recipe is delicious as listed but can be modified to fit your specific dietary needs and goals. Here are a few modifications that I KNOW will work. If you modify it in any other way, please let me know in the comments below.
Sweetener

: Use any sweetener you choose. Be sure to check out THIS post about why I use stevia and VERY small amounts of either raw honey or organic coconut sugar in recipes. As always, taste EVERY layer for sweetness and adjust the sweetness to your liking.

Fruit

: I used canned pumpkin but you could also use cooked sweet potato or even butternut squash.

Nut-Free:

For nut-free, substitute ground raw sunflower seeds in the place of the almond flour in the crust. Also use raw sunflower seeds in the place of the chopped nuts for the "candied" nuts if you so desire.
This would be the perfect dessert for Thanksgiving or any holiday meal! Enjoy!
Southern Pumpkin Delight w/ "Candied" Pecans
2014-09-01 14:36:00
Serves 12
Ingredients
Crust

1-1/2 cup almond flour
1 cup chopped pecans
8 tbsp butter, soften (I used salted)
1/8th tsp. Organic Kal Stevia or sweetener of choice, to taste
1/8 tsp. salt

Whipped Cream Cheese Mixture*

12 oz. cream cheese, room temperature
12 oz. heavy whipping cream, chilled
1/4 tsp. Organic Kal Stevia or sweetener of choice, to taste
1/2 tbsp. vanilla

Pumpkin Layer

1 cup plain pumpkin
3/4 cup Whipped Cream Cheese* (from above recipe)
3/4 tsp pumpkin pie spice
1 tsp. vanilla
1/8th tsp. Organic Kal Stevia or sweetener of choice, to taste

"Candied" Pecans

1/2 tbsp. salted butter
1/2 cup pecan halves
1/2 tsp. molasses (or honey)
2 servings Organic Kal Stevia or sweetener of choice, to taste
Instructions
Crust

Mix ingredients well and taste for sweetness/saltiness. Adjust if needed. Preheat oven to 400 degrees. Press crust into 9 inch pie dish or equivalent oven safe dish. Bake for 15-17 minutes until the outside edges begin to brown. Remove and allow to cool completely.

Whippped Cream Cheese

Beat cream cheese until smooth. Add heavy whipping cream, Kal Stevia and vanilla. Whip until thickened. Taste for sweetness. Reserve 3/4 cup mixture for Pumpkin Layer below.

Pumpkin Layer

Fold pumpkin, the 3/4 cup Whipped Cream Cheese Mixture* and remaining ingredients and blend well. Taste for sweetness.

"Candied" Pecans

In a small frying pan over med-low heat, add butter and pecans. Toast nuts about 3-5 minutes, stirring often. Turn heat down to low and add molasses. Stir well to coat all pecans. Add stevia and stir well until evenly coated. Taste for sweetness and add a bit more stevia if desired. Allow to cool completely on parchment paper.

To Assemble

Pour Pumpkin Layer over cooled crust. Then top with Whipped Cream Cheese Mixture. Allow to cool for at least 2 hours or overnight. Before servings, sprinkle "candied" pecans on top of Whipped Cream Mixture.
Notes
Nutrition: 5 grams Net Carbohydrates per serving
Satisfying Eats http://satisfyingeats.com/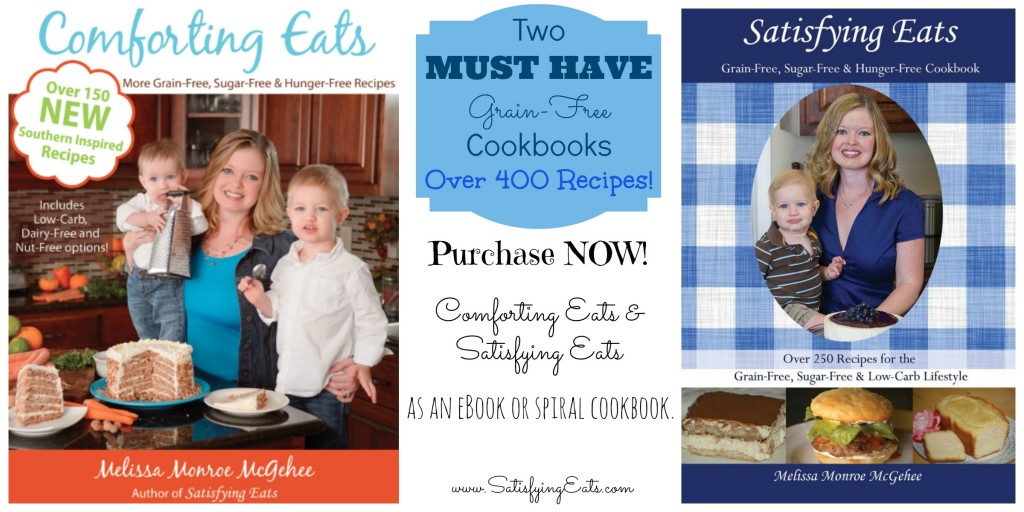 Disclaimer: Some of the links contained in this post are Affiliate Links. If you make a purchase through the links provided, I will receive a small (very small) commission which I will use to buy more ingredients to create more recipes. This is at NO cost to you! I have chosen these products not to receive a commission, but because I think they are the best on the market. These are ingredients and equipment that I actually use. This commission helps compensate me for my time, and justifies the hours each day that I spend in the kitchen creating recipes, on the computer posting blogs, and sharing helpful information with you.
By clicking on any of links in my blog, you are helping me continue doing what I LOVE to do! Also, when purchasing items from Amazon, consider clicking on THIS affiliate link. Anything you purchase within 24 hours after clicking on THIS link, I will receive a small commission as well. Thanks again for all of your support, it is greatly appreciated! More great recipes to come!
For a complete list of recommended items, check out THIS link or Shop in my Amazon Store.