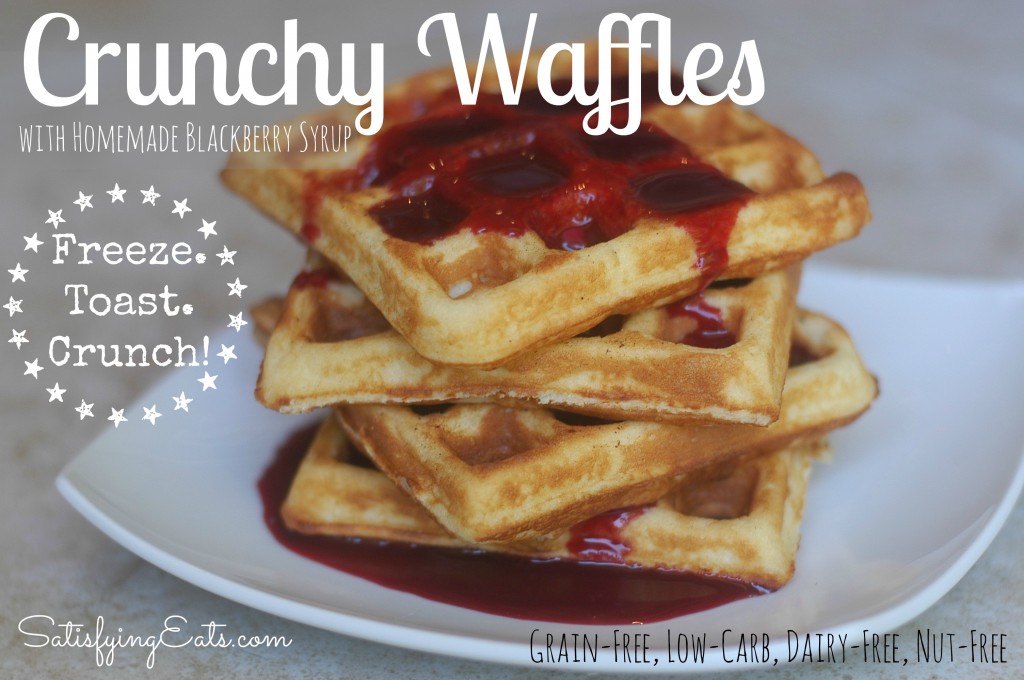 I LOVE waffles! I don't eat them often (even when I consumed grains), but when I eat them, I want them to taste GOOD! I don't believe in eating mediocre food, I would just rather not eat it at all. This is pretty much my philosophy when creating recipes, and I know this has been part of my success over the past two and a half years. If I want pancakes… I don't cave and go eat a stack at IHOP, I just make my own, grain-free and guilt-free!

You are going to love the fact that you can pre-make these waffles, freeze them and have them any time you want! Using a toaster makes these waffles extra crunchy! I even use these waffles to make breakfast sandwiches… SO GOOD and so easy!!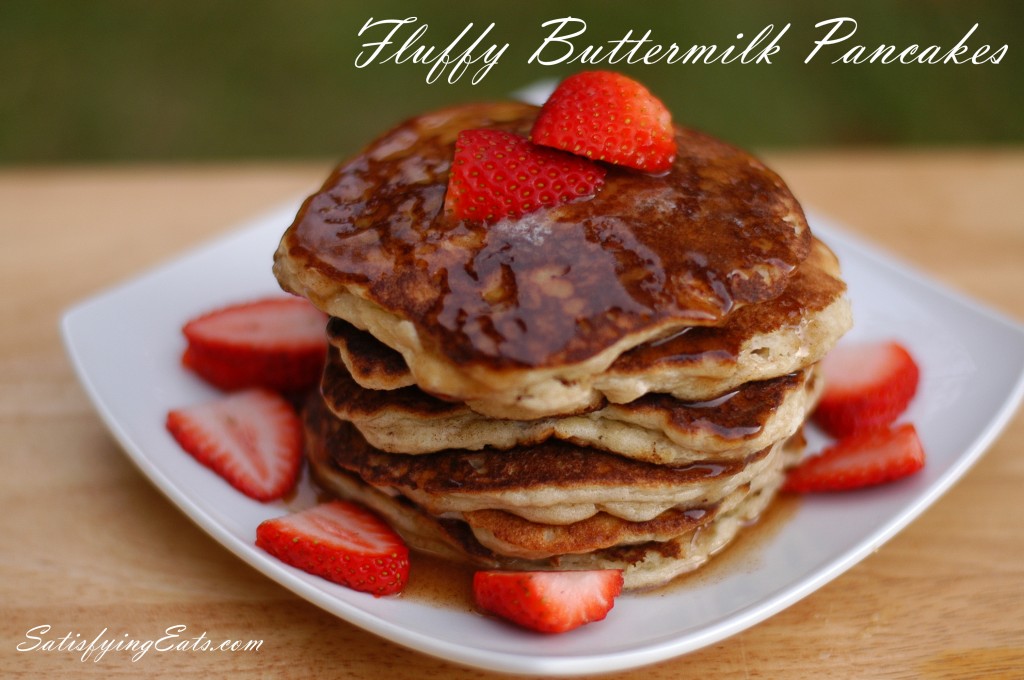 This ain't my first rodeo when it comes to makin' grain-free waffles and pancakes! Check out my Fluffy Buttermilk Pancakes pictured above (they can also be made into waffles). The Fluffy Buttermilk Pancakes (and waffles) are EXTRA fluffy because I fold in beaten egg whites at the very end. This makes the end product very light, but it does take a little more time. As I have said before, I am looking for ways to decrease my time in the kitchen and ways to dirty up fewer dishes, and my Crunchy Waffles recipe has done just that!
For those of you who who are looking for more variation in your waffle repertoire, be sure to check out my Easy Waffles Mix recipe in my Satisfying Eats Cookbook for waffle variations such as Banana-Nut and Pumpkin.
Grain-Free Starter Kits
Have you ever wanted to buy all of your grain-free cooking supplies from ONE place at a reasonable price with a flat shipping cost?? Well this is exactly what I am doing, and I am almost ready to start selling my Grain-Free Starter Kits! The kits will include small packages of EVERYTHING you will need to start cooking grain-free, including:
Click on the links above. Check out how much it would cost you if you purchased these items separately! Oh, and don't forget the individual shipping cost!
My intent with selling these Kits is to help you get EVERYTHING you need from ONE place, for a GREAT price, and with one FLAT Shipping Cost. This is instead of paying HIGHER prices when only needing to purchase small amounts, and having to pay high shipping cost for each item.
Would you be interested in purchasing any of these items?? If so, click HERE to order!
Ok, back to the yummy waffle recipe!!!
Waffle Variations
This recipe is very versatile and can be jazzed up with pumpkin pie spice, cinnamon, added nuts, almond extract…the list goes on and on.
Don't have a waffle iron?? Feel free to make as pancakes. Do use salted butter for your pan… I love the contrast of the salt on the edges!
Follow the directions listed for nut-free by substituting ground sunflower seeds in the place of the almond flour. This substitution works GREAT!
Tomorrow, I will be posting my yummy Homemade Blackberry Syrup which pairs PERFECTLY with these waffles! In the mean time, check out my Butter Syrup in my Comforting Eats Cookbook or my Blueberry Syrup recipe already on the blog!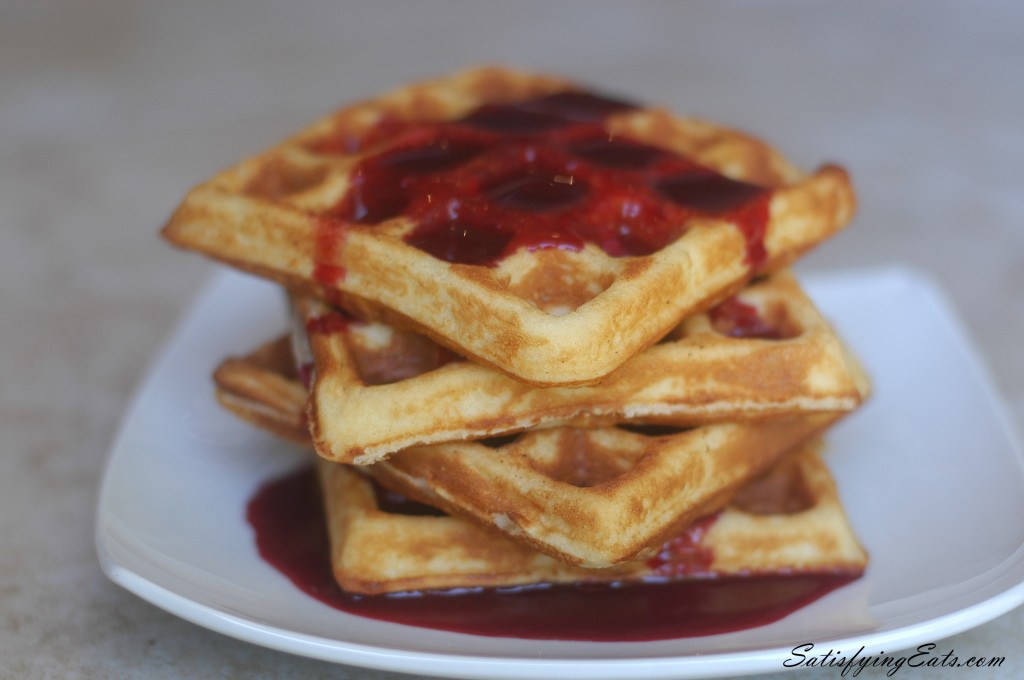 Crunchy Waffles
2014-05-04 21:06:53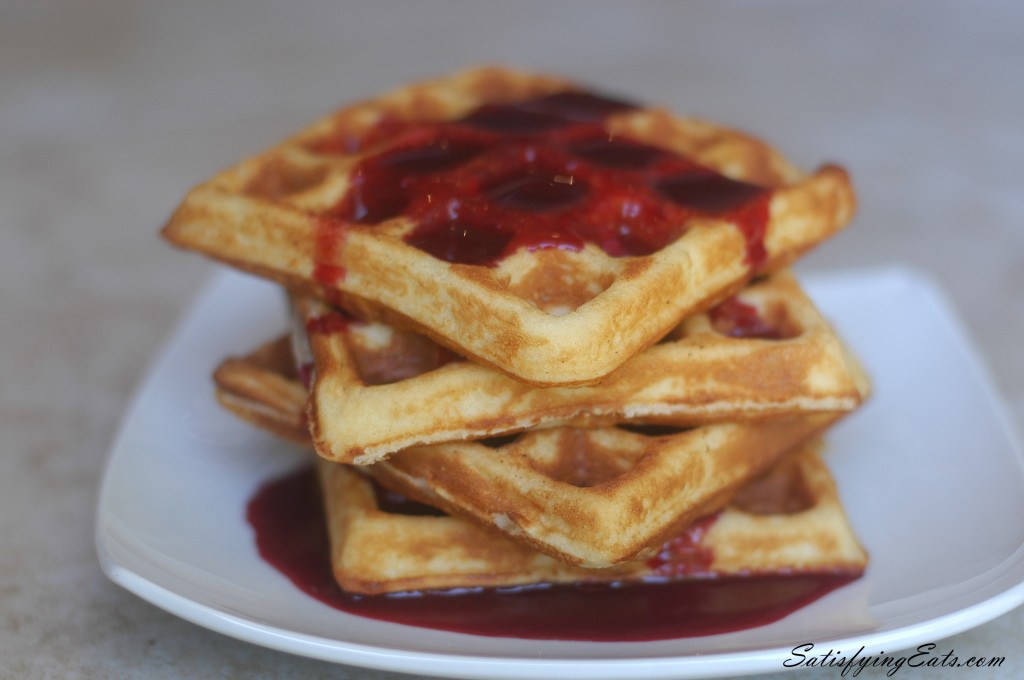 To print recipe, highlight and right-click, then select Print.
Instructions
Pre-heat waffle iron according to manufacturer's instructions. Add the ingredients to your blending device in the order listed above (be sure you add the milk and eggs before the flours). Blend for 1-2 minutes, or until the batter is smooth. Taste for sweetness and adjust if needed.

Apply a little salted butter to the bottom of the pre-heated waffle iron. (I use a cold stick and just rub it over the grates to let it melt just a bit). Pour batter into waffle iron, using 1/4 to 1/3 cup of batter per waffle (this will depend on the size of your waffle iron). Cook waffles until light brown and then carefully remove waffle. Using 1/4 cup measurements, this should yield approximately 6 waffles.

Serve immediately with salted butter and your syrup of choice. For extra crunchy waffles, place waffle in toaster and toast on a low setting (I used 2). This will make the waffle extra crispy on the outside.

To Freeze: Separate cooled waffles with papertowels or wax paper (to prevent from sticking) and wrap in foil to prevent freezer burn. Then place waffles in a freezer safe container.

To Reheat: Place frozen waffle in toaster on a low-medium setting until heated and crispy. (Place on low setting first to make sure that the waffles do no burn).

*Check out this blog post for more information about stevia and other sweeteners. If you are still using KAL Brand Stevia, be sure to use half the amount (1/8 tsp.) compared to Trader Joe's Organic Stevia in this recipe.
Notes
Nutrition: 165 Calories, 14.5 grams Fat, 5.3 grams Total Carbs, 1.8 grams Fiber, 3.5 grams Total Carbs, 5.7 grams Protein per waffle (using regular milk)
Satisfying Eats http://satisfyingeats.com/
~~~~~~~~~~~~~~~~~~~~~~~~~~~~~~~~~~~~~~~~~~~~~~~~~~~~~~~~~~~~~~~~~~~~~~~~~~~~~~~~~~~~~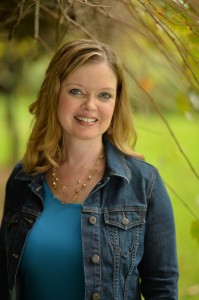 I hope you have enjoyed this blog post. If you love my site and have enjoyed all of my recipes and content, please consider sharing this post, and supporting me through my affiliate links. This is at NO cost to you. I simply receive a VERY small commission on purchases made through links on my site or by using THIS link through Amazon.
Also be sure to check out my two cookbooks, Satisfying Eats & Comforting Eats, NOW available in eBook format through Amazon and the spiral bound versions are available here on my blog.
Happy Cookin'!